WHO AM i? who are YOU?
We are forced to mask ourselves out but sometimes we happily put masks on. When a lot of us try out different masks to find perfectly fitted masks, some of us are stuck with specific masks that we did not choose. We put masks on to act ourselves and we strive to take masks off to be ourselves. We wear masks not only when we encounter others but also when we are alone. Multiple masks combine and layer on top of each other as we live. For us, masks are inevitable. They are there for us to survive. Are we brave enough to take our masks off? When would we ever put our masks off? Do you really think you took your mask off?
MASK - OFF is a group show including eight artists, Annabelle Buck, G.S. Bullen, Tyler Claus, rod jones ii, Jotham Malavé, Charles Mason III, Fangfang Ren, and Noah Steinman, curated by Jung Hoon Park. Selected artists, currently living in Philadelphia, have different ethnic, cultural and social background and they share their different experiences with their masks both consciously and unconsciously through their artwork.
Art Work On Exhibit
Email gallery for price: info@jedidiahgallery.com
Annabelle Buck
Trauma
Acrylic on canvas
24" X 36"
2018
Annabelle Buck
Two women in a field
Acrylic on canvas
24" x 18"
2018
Annabelle Buck
Purple girl
Acrylic on canvas
30" x 30"
2018
Annabelle Buck
Cigarette flowers
Acrylic on canvas
24" X 18"
2018
G.S. Bullen
About the world
mixed media, spray paint, acrylic and oil on fiberboard
22.5" X 38"
2018
G.S. Bullen
Marbled Truths
mixed media, spray paint, acrylic and oil on fiberboard
35" X 17.5"
2018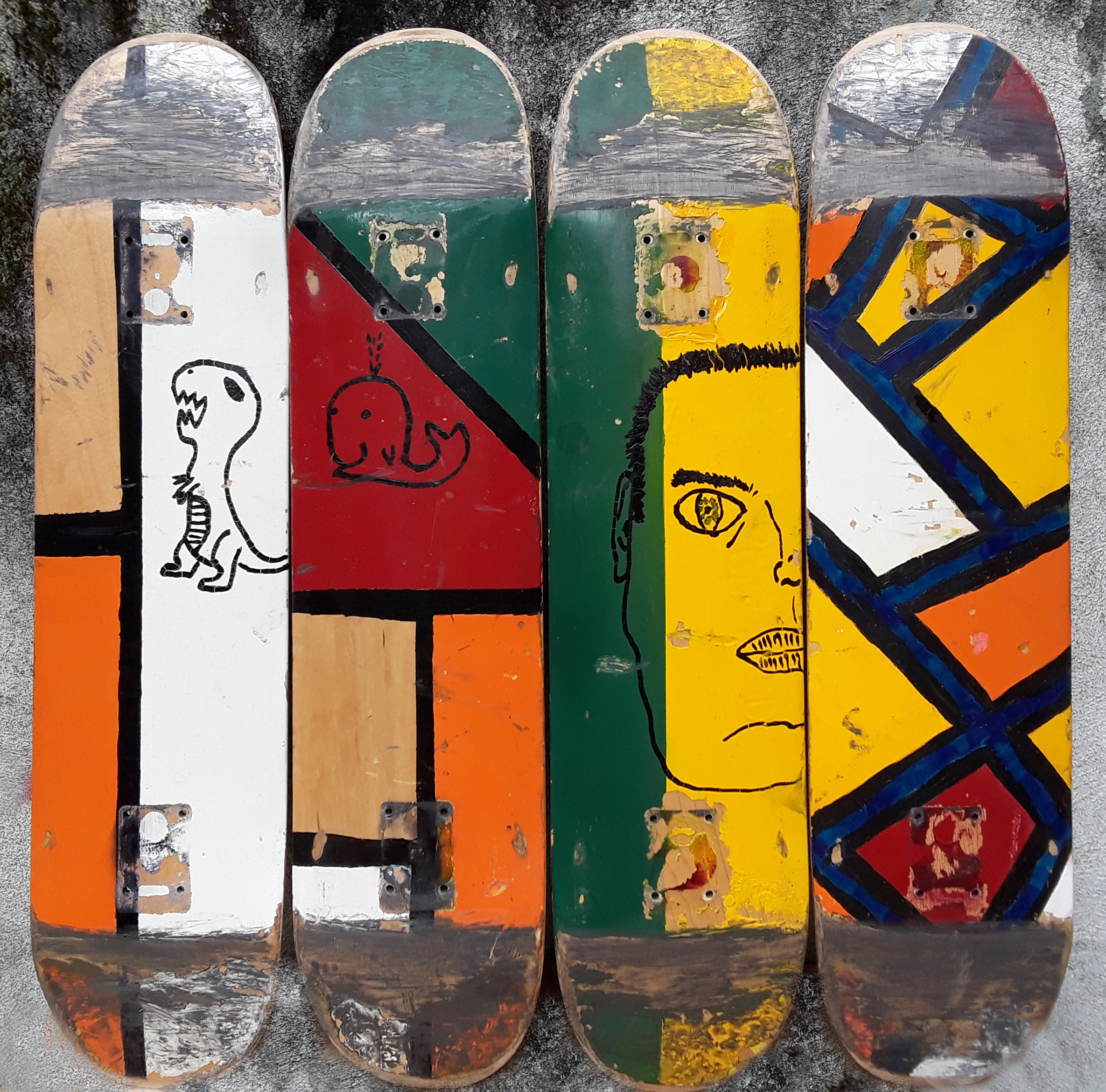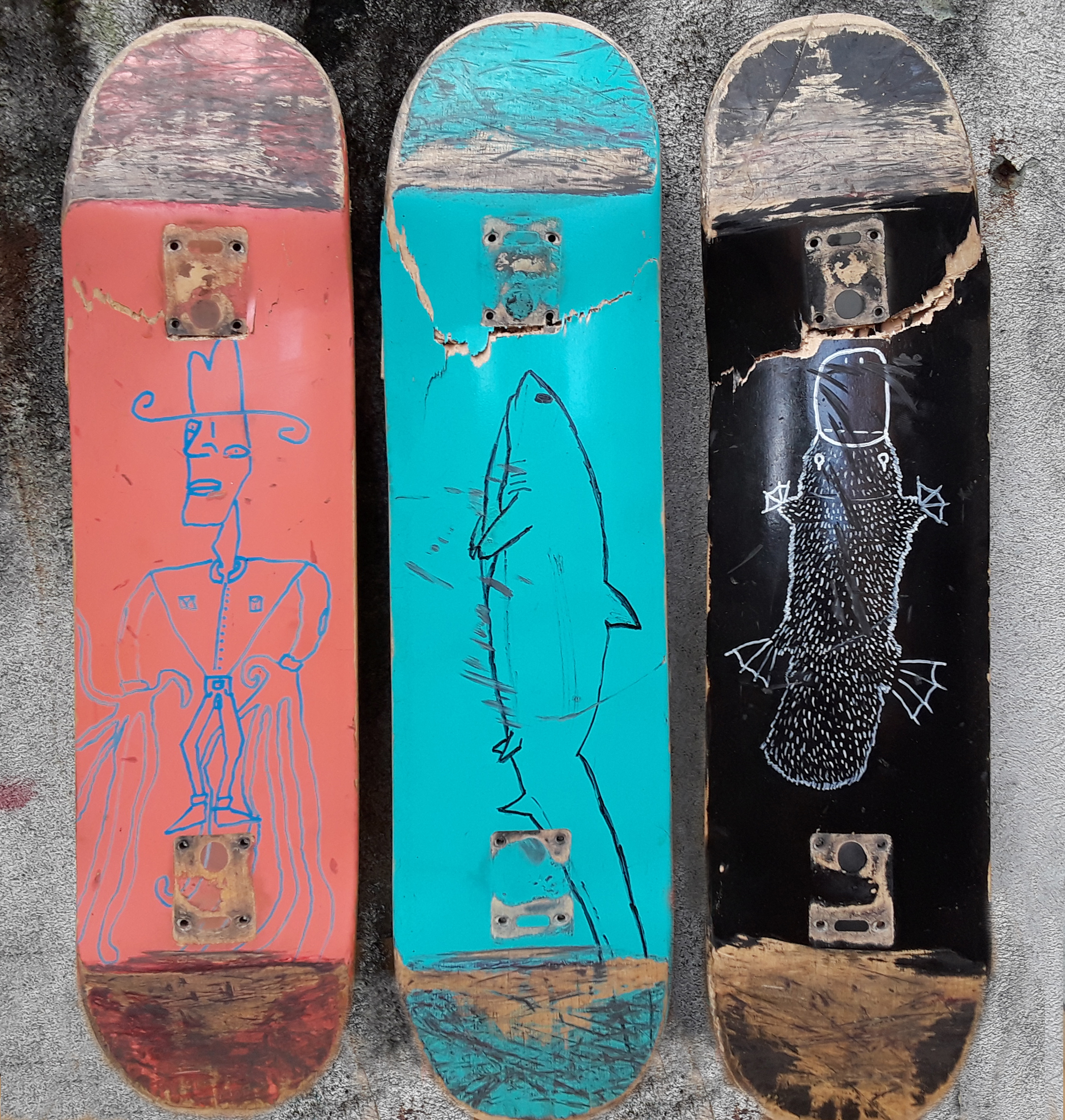 Jotham Malavé
Drowning of Salcedo
Charcoal and gel medium on paper
42" x 66"
2018
Jotham Malavé
Acolytes of the South
Oil on canvas
26" x 20"
2018
Jotham Malavé
La cara del extasiado
Oil on canvas
32" x 26"
2018
Jotham Malavé
Mascara chamanistica
Oil on canvas
16" x 16"
2018
Charles Mason III
"A being then ceases to exist as itself and becomes entrenched in an abstracted manner where they must navigate my feeling on the state of being."
Digital illustration
6" x 4"
2018

rod jones ii
do you know how it feels to be a walking contradiction?…
digital print
2018
rod jones ii
do you know how it feels to be a walking contradiction?…
digital print
2018
rod jones ii
do you know how it feels to be a walking contradiction?…
digital print
2018
rod jones ii
do you know how it feels to be a walking contradiction?…
digital print
2018
rod jones ii
do you know how it feels to be a walking contradiction?…
digital print
2018
rod jones ii
do you know how it feels to be a walking contradiction?…
digital print
2018
Noah Steinmann
Altered Book, Faith, and Behavior
Acrylic, watercolor, matte medium, ink, and found images from "The Grape" by Chad Walsh and Eric Montizambert
8.5" x 11''
2018
Noah Steinmann
Altered Book, Faith, and Behavior
Acrylic, watercolor, matte medium, ink, and found images from "The Grape" by Chad Walsh and Eric Montizambert
8.5" x 11''
2018
Noah Steinmann
Altered Book, Faith, and Behavior
Acrylic, watercolor, matte medium, ink, and found images from "The Grape" by Chad Walsh and Eric Montizambert
8.5" x 11''
2018
Noah Steinmann
Altered Book, Faith, and Behavior
Acrylic, watercolor, matte medium, ink, and found images from "The Grape" by Chad Walsh and Eric Montizambert
8.5" x 11''
2018
Noah Steinmann
Altered Book, Faith, and Behavior
Acrylic, watercolor, matte medium, ink, and found images from "The Grape" by Chad Walsh and Eric Montizambert
8.5" x 11''
2018
Noah Steinmann
Altered Book, Faith, and Behavior
Acrylic, watercolor, matte medium, ink, and found images from "The Grape" by Chad Walsh and Eric Montizambert
8.5" x 11''
2018
Noah Steinmann
Altered Book, Faith, and Behavior
Acrylic, watercolor, matte medium, ink, and found images from "The Grape" by Chad Walsh and Eric Montizambert
8.5" x 11''
2018
Noah Steinmann
Altered Book, Faith, and Behavior
Acrylic, watercolor, matte medium, ink, and found images from "The Grape" by Chad Walsh and Eric Montizambert
8.5" x 11''
2018
Noah Steinmann
Altered Book, Faith, and Behavior
Acrylic, watercolor, matte medium, ink, and found images from "The Grape" by Chad Walsh and Eric Montizambert
8.5" x 11''
2018
Noah Steinmann
Altered Book, Faith, and Behavior
Acrylic, watercolor, matte medium, ink, and found images from "The Grape" by Chad Walsh and Eric Montizambert
8.5" x 11''
2018
Noah Steinmann
Altered Book, Faith, and Behavior
Acrylic, watercolor, matte medium, ink, and found images from "The Grape" by Chad Walsh and Eric Montizambert
8.5" x 11''
2018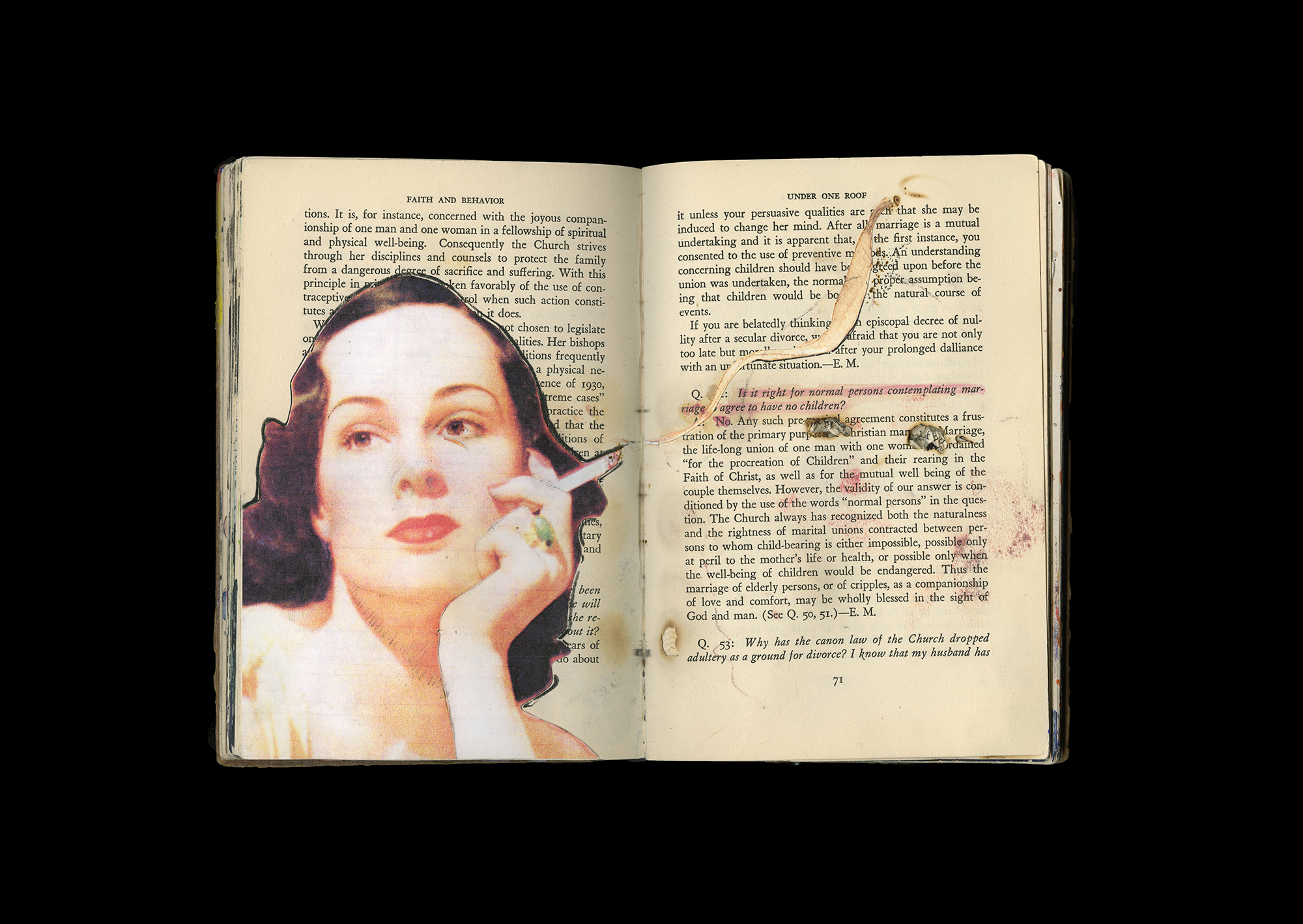 Noah Steinmann
Altered Book, Faith, and Behavior
Acrylic, watercolor, matte medium, ink, and found images from "The Grape" by Chad Walsh and Eric Montizambert
8.5" x 11''
2018
Noah Steinmann
Altered Book, Faith, and Behavior
Acrylic, watercolor, matte medium, ink, and found images from "The Grape" by Chad Walsh and Eric Montizambert
8.5" x 11''
2018
Noah Steinmann
Altered Book, Faith, and Behavior
Acrylic, watercolor, matte medium, ink, and found images from "The Grape" by Chad Walsh and Eric Montizambert
8.5" x 11''
2018